Home | About Us | E-Mail List
Annual Kirkin' o' the Tartans
The word "Kirkin" comes from the Scottish word for "church" ("kirk"). The Kirkin' o' the Tartans worship service traces its roots to the legend that Scots secretly would take swatches of their tartans to church in the 18th century when the wearing of tartans was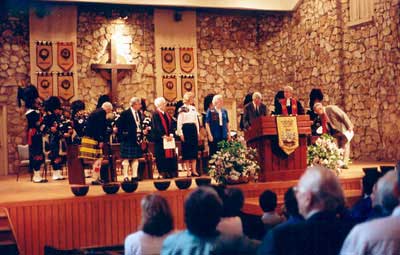 outlawed under the Proscription Act of 1746. At a pre-designated time in the service, the Clansmen and Clanswomen would touch their concealed tartans while the minister blessed the cloth in Scottish.
The legend became reality when Presbyterian Minister Dr. Peter Marshall presided over the first formal Kirkin' O' the Tartans ceremony on April 27, 1941, in Washington, D.C. Marshall served as and Chaplain of the U. S. Senate from 1947 - 1949.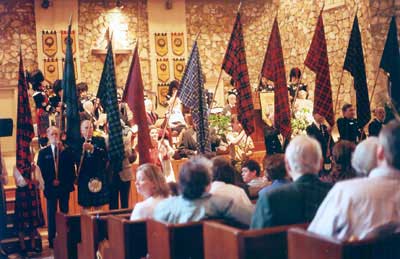 Today, hundreds of Presbyterian churches throughout the nation celebrate the blessing of the clans throughout the year.
In Montreat, the annual Kirkin o' the Tartans involves about a 100 tartan banners and a distinguished huest minister to deliver the sermon at this worship.
The Montreat Scottish Society Pipes & Drums band, often accompanied by a brass orchestra, provides music both in a pre-service welcoming concert and during the service.
Put in on your calendar and join us
2014 Kirkin' o' the Tartans —
Sunday, May 25th, Anderson Auditorium, Montreat, NC
10:15 am Pipin' on the Green, MSS Pipes & Drums
11:00 am Kirkin' o' the Tartans